EFO News
Lowen & Navarro's Farewell Show - Birchmere, June 6; EFO Among Special Guests - SOLD OUT!
Saturday, May 23, 2009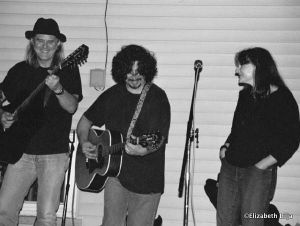 Over the course of our 18 years of playing, there are few performing acts that we've have become as close to as
Lowen & Navarro
. This L.A. songwriting team-turned-performing duo who penned such classics as Pat Benatar's "We Belong" was a major influence on us when we started in 1991. A number of years later, Eric and Dan popped by our opening set for Dar Williams at the Bottom Line in New York City to check us out. An immediate Mutual Admiration Society was formed. L&N can take credit for being the ones who convinced us to do our Edhead Cruises. Over the years, we've shared the stage from Berkeley CA to Chicago, crashed each other's shows, stayed up late, toured the Midwest, celebrated our drummer's birthday in Toledo, and shared pie at the famous Norske Nook in Osseo, WI. Eddie and Mike have even been fill-in members for their band a number of times.
When we visited them at Falls Church, VA's Cue Studios on St. Patty's Day, 2004 while they were recording their new CD, Eric Lowen delivered the sad news that he had just been diagnosed with ALS (Lou Gehrig's Disease). To this date, their band has done ANYthing but sit still. They continued touring, recording CDs and DVDs, hosting their L&N Cruises, and fighting to bring awareness to the rest of the world about this horrible disease - which has included lobbying in Washington, DC. Since that March 17 date, we've also seen the very hard effects this illness has brought upon our dear friend. From standing, to sitting, to downsizing to mandolin, to surrendering all instruments, to being limited to the spoken word, wheelchair-bound Eric has vowed to play until he is a "head on a stick".
Eric will
never
be just a "head on a stick" as he's had too great an impact on the world around him - the musical community, L&N fans, and a beautiful wife & five incredible kids who all love him dearly. Lowen & Navarro have decided to announce, however, that their final performance will be
Saturday, June 6
at
The Birchmere
in Alexandria, Virginia, a venue they consider to be a second home to them since their first show there in 1990.
Being dubbed
"El Fin Del Camino"
(no doubt by Spanish-fluent Dan), this farewell performance will feature special guests including
Ellis Paul
,
Pete & Maura Kennedy
,
SONiA
,
John Jennings
,
Naked Blue
,
Eric's kids
, and the trusty fellows in the L&N band,
Phil Parlapiano
,
JT Brown
,
Robbie Magruder
and
David Glaser
.
EFO
is also very proud to be a part of this lineup, adding vocals, harmonies & some fine Eddie percussion.
Please come out and help us celebrate this wonderful twosome who have given us such great music and joy over the years. This is a show not to be missed.