EDDIE FROM OHIO'S NOVEMBER 2017 EMAILER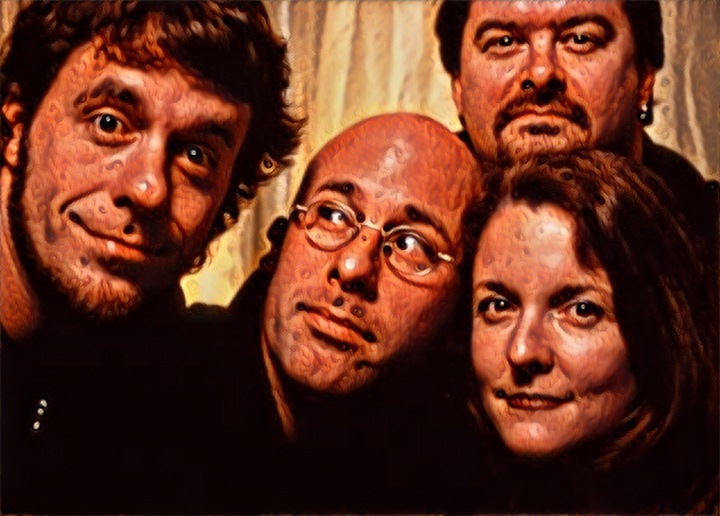 HAPPY HALLOWEEN, EDHEADS

BOO!! Surprised? Well, you WILL be when you realize that we have a bunch of gigs for the rest of the year! Starting this weekend, we make our first trip up from NYC to MA in eons! Details are all spelled out in the right hand column. We're happy to announce that our return to NYC's City Winery (Th, 11/2) will be celebrated with a special Eddie from Ohio wine, available only at the show. On Friday, he head back to the fine Greenwich Odeum in Greenwich RI. On Saturday, we're sad (tho excited) to report that our TCAN Natick MA show is sold out! For all you loyal Mass-heads who feel left out, do consider a road trip down to Greenwich as tickets are still available for that show.

In December, we're happy to bring the year to close with 2 shows in the heart of our beloved Virginia Commonwealth - mid-month in Richmond & Charlottesville. Details are available when you click on the shows in the right column. Dec 15 will mark our first appearance at The Tin Pan, and our first time back to an RVA address in over a decade! The Jefferson in Cville has become a holiday tradition for us (tho we missed last year), and making it extra special, we will be joined by our go-to fifth guy, Jake Armerding.
Of course, we have The Birchmere in our hometown Northern Virginia over the MLK weekend. Tickets are now available. birchmere.com.
Read on, read on…. good stuff ahead….
ROBBIE HAS SPECIAL FREE CD RELEASE EVENT IN DECEMBER
Monday, December 11, 7pm, Signature Theatre in Arlington VA - Join Robbie Schaefer for the celebration of the release of his latest album, Sounds Like Home: Songs From Light Years. A collection of songs from his forthcoming musical, Sounds Like Home features Jake Armerding (Eddie From Ohio) on fiddle and Daniel Clarke (kd Lang, Ryan Adams) on piano. This evening is free and open to the public and will include a short performance by Robbie, light food and drink, and autographed cd's.
LIGHT YEARS, Robbie's new musical is "a deeply personal tale of immigration, musical gifts and the steadfast bond between father and son". It will premiere at Arlington, Virginia's Signature Theatre in February, 2018. Individual tickets go on sale in June.
Full and partial season subscriptions are available now: http://www.sigtheatre.org/events/2017-18/light-years/
check out Robbie's OneVoice community by clicking http://www.onevoicecommunity.org/ OneVoice
Robbie's new and improved website is also up: http://robbieschaefer.com
His Facebook page
https://www.facebook.com/pages/Robbie-Schaefer/39512778003?ref=hl




CLEM IN NOVEMBER
EFO's Michael Clem is up to his usual "yes, he actually does this for a living" schedule. Do join him and remind him to floss.
Fr/10 The Last Waltz Tribute Show, Weinberg Cntr, Frederick MD 8pm
Sa/11 The Last Waltz Tribute Show, The Hamilton, Washington DC 8:30pm
Su/12 Susie & The Pistols @ Blenheim Vineyards, Charlottesville VA 1-3pm
Fr/17 Michael Clem Trio @ Glass House Winery, Free Union VA 6-9pm
Save the Dates for:
The Michael Clem Trio of Five birthday shows
Fr, Jan 5 Batesville Mkt, Batesville VA
Sa, Jan 6 Jammin Java, Vienna VA

Also, check out the brand new Susie & The Pistols website, complete with a new video. https://susieandthepistols.com

CLEM'S WEBSITE
http://www.michaelclem.com/
Lots of show details & information there, including the new CD "Fifty Clementines"
Available at CDbaby, iTunes & Amazon.com
Follow Michael Clem on Twitter @JFishMusic
LIKE THE MICHAEL CLEM & MICHAEL CLEM TRIO ON FACEBOOK
Click https://www.facebook.com/michaelclemtrio?ref=hl
Finally, all kinds of Clem Swag is available at
Red Bubble's Michael Clem Page http://www.redbubble.com/people/michaelclem/works/18630649-clem-swag?ref=recent-owner
CDs at https://bulletproofartists.com/product-category/michael-clem/
EFO SHIRTS ARE BACK!!!

All you Edheads who've been waiting to replace your EFO swag - well, now's your chance. Check out
http://www.redbubble.com/people/eddiefromohio Red Bubble's EFO Site. Our good friend and master artist Oslo, has put up some past logos, and now you can design your own shirts, hoodies,even a cell phone case! Pick your color, pick your style, pick your logo - it's so easy and PayPal-friendly!
EFO SHOWS OF YORE UPLOADED FOR YOUR LISTENING PLEASURE
Many shows have been uploaded to http://archive.org/details/EddieFromOhio.
Performances from all over the country at all different stages in our quarter century career.
OTHER NEWS
FOLLOW EDDIE FROM OHIO ON TWITTER- Follow us @virginiasoul
LIKE US ON FACEBOOK! Lots of news gets posted there, too.
Click https://www.facebook.com/pages/Eddie-From-Ohio/7419303387?ref=hl
For EFO and solo merch. Go to https://bulletproofartists.com/product-category/eddie-from-ohio/. Check out Bulletproof's new improved site!
ALL THE BEST!
juliemikeeddie&robbie
email us at eddiefromohio@gmail.com