EDDIE FROM OHIO'S APRIL 2020 EMAILER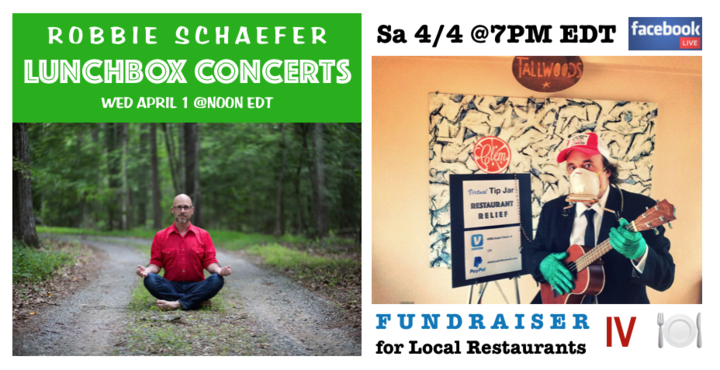 Greetings Beloved Quarantined Edhead Nation

Hard to believe the difference in tone between our emailer a month ago and this one. There are no changes to report to any of our existing EFO plans since they are so far off, but we will update our website should any changes occur. We hope that when those first live notes do occur down the road, that it will be a beautiful celebration of triumph, togetherness and music. We wish only the best for all of you, and the people you love, during this very challenging time.
There is an old show biz credo (dating way back to mid-March 2020) that when the going gets tough, the tough do on-line concerts. That's just what EFO's Robbie & Mike have been up to from their respective homes. So far, the shows have been great fun, and have also managed to raise funds for their local concerns - Robbie's in Northern Virginia & Mike's in Charlottesville. There's more information below on each of their next online shows.
There is no shortage of folks hurting right now - physically, emotionally, and economically. Our hearts really go out to any and all who are presently without work, particularly in the service industries. Many of the places hit hard are the very places that have hosted us. Musicians are hurting now, and if you want to help musicians, please consider helping the places who hire them. When we emerge from this lock-down, we'll need these places to continue playing. Please support them. Some of them are setting up GoFundMe campaigns, like our good friends at Jammin Java in Vienna VA who just ran a successful drive and reached their goal. Another venue has established a GoFundMe page - Richmond VA's Tin Pan (where we are actually scheduled to play 2 nights later this year). Please get behind their fundraiser if you can.
Just log in here
https://www.gofundme.com/f/support-the-tin-pan-live-music-in-richmond-va?fbclid=IwAR3wtCtj_49cx6m3E8Tr0Kh7wO4j-WpjZaVFXKqQR3a1JVfLSlA7frROuSo




ROBBIE SCHAEFER'S LUNCHBOX CONCERT WED APRIL 1
Robbie wasted no time strumming his guitar for social media audiences, establishing a daily noontime hour or so performance which he has dubbed "Lunchbox Concert". He's had a variety of special causes he's trying to support, as well.

Here's a blurb that Robbie posted about his upcoming show:
Thank you all for these past two weeks. Two weeks of daily music, of gathering, of leaning into--occasionally onto--one another. Two weeks of restructuring our lives, day by day, often hour by hour, without much of a roadmap. Two weeks of showing up however we are, wherever we are. Two weeks minus one day of good, clear reception.
I am sorry for the interference today--the distortion, the echo, the chaos. But of course, that is our world right now, isn't it and something tells me it was inevitable. So, two weeks minus one day ain't bad.
I intend to continue the LUNCHBOX concert series once a week, beginning next WEDNESDAY, APRIL 1. No joke.
By then maybe you'll have cut your hair really short, or painted your nails Isolation Blue. Maybe you'll be sick and tired of tomato soup or sick and tired of singers showing up on your virtual doorstep, or at least sick and tired of being sick and tired.
That's ok.
Here I'll be.
Can't wait to see you.
xo
Robbie
You can find Robbie's show here https://www.facebook.com/robbieschaefer/
His past shows are archived there as well. Any news of future shows will be posted here, too.
Donations can be made to
Venmo: @robbie-schaefer-1
PayPal: paypal.me/olivetree0206





MICHAEL CLEM'S "QUARANTUNES" FOURTH FUNDRAISER SHOW SAT APRIL 4

Since his first weekend of cancelled shows, Mike has turned in 4 internet shows (2-3 hours in length), and the past three have been fundraisers with 100% of the donations going to relief for Charlottesville area restaurants (gift vouchers have also been purchased and given to Mike's church's food bank). Over the three shows, more than $6K has been raised. The local NBC affiliate did a news piece before the first fundraiser show. You can view by clicking HERE.

The 4th show this Saturday, and will feature the return of good friends Rusty Speidel (guitar) & Matty Metcalfe (accordion). Many of you know Rusty from SGGL, and Matty is the stellar keyboardist for The Legwarmers. Both gentlemen are also in the Michael Clem Trio of Five.
You can find Mike's show here https://www.facebook.com/michael.clem.9
His past shows are archived there as well. Any news of future shows will be posted here, too.
Donations can be made to
Venmo: @Michael-Clem-4
PayPal: jfishmusic@hotmail.com
Speaking of Trio, The Michael Clem Trio will be playing an online performance with the Front Porch on Friday, April 17 as part of their Save The Music series. Please tune in... click https://www.facebook.com/events/2592512117690707/






EFO SHOWS FOR YOUR LISTENING PLEASURE DURING QUARANTINE

Many shows have been uploaded to http://archive.org/details/EddieFromOhio.
Performances from all over the country at all different stages in our quarter century career.

Also, here's a three song video captured in recent years at NYC's City Winery
http://eddiefromohio.com/video
OTHER NEWS

TWITTER- Follow us @virginiasoul
LIKE & FOLLOW US ON FACEBOOK
Click https://www.facebook.com/eddiefromohio

Be Safe, Stay Home, Fill Out Your Census
juliemikeeddie&robbie
email us at eddiefromohio@gmail.com