EDDIE FROM OHIO JULY 2022 EMAILER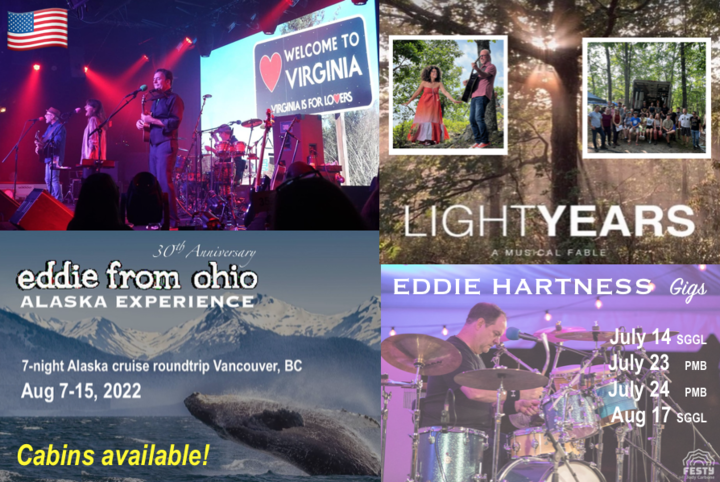 HAPPY FOURTH, EDHEADS


We have many fond memories of great Independence Day gigs over our three decades - from downtown DC to Northern Virginia to Wintergreen... even 10 years ago in Bern, Switzerland at the US Embassy. Wherever you spend your Fourth, we hope you have a wonderful celebration.

As we mentioned three months ago, following our Edhead Cruise to Alaska in August, Eddie from Ohio will be stepping back from performing live indefinitely. We truly appreciate all the kind words and memories you've shared with us.

If you'd like to part of our last hurrah before stepping away, there are STILL CABINS AVAILABLE ... and while we announced the deadline for signups was May 3, our fine travel coordinator has alerted us that the Celebrity Cruise ship have notified us that they still have room for more. We're very pleased, that presently, we have more Edheads signed up to sail than any of the previous six cruises. It's gonna be a blast! Please join us!

For other EFO related news, please read on....


***********************

THE CRUISE: MORE CABINS AVAILABLE....

EDHEAD 30TH ANNIVERSARY CRUISE AUGUST 2022

Here is the latest word for all the Edheads Cruisers from Fan Club Cruises


Hey Edheads,
As we've mentioned before, following our Edhead Cruise to Alaska in August, Eddie from Ohio will be stepping back from performing live indefinitely. And while the official deadline of May 3 has passed, as of press time, the cruise ship still has some space available.


Alumni of prior Edhead cruises know how unique an experience this is; and we're making it even more special by going to this true bucket list destination! We sail roundtrip out of Vancouver and visit Sitka, Juneau and Ketchikan. We'll sail through the gorgeous Inside Passage twice and also visit the incredible Hubbard Glacier.


We hope you can join us for this once-in-a-lifetime experience! If you have any questions, please don't hesitate to reach out to Donald at Fan Club Cruises. His email is donald@d2demand.com. And most of your questions can also be answered at the Edhead Cruise webpage.



***********************

ROBBIE SCHAEFER - LIGHT YEARS: THE MOVIE


Did you know that Robbie's highly-acclaimed stage musical is becoming a movie? This past month, Robbie and an army of cast and crew went out on the location for a 15 day shoot. You can read more about this exciting project by checking out the brand new website:
https://lightyearsthemovie.com/
More from Robbie:
I have a new PODCAST. It's called Walk With Me and what happens is I take walks and you . . . well, you walk with me. Virtually. Figuratively. And I talk and play music since I'm good at both those things.
Here's a link to a FREE one. If you like it, there's plenty more where that came from on my
Patreon
page. You can hear 'em all (and get other exclusive music and goodies) for just $10 a month.
WALK WITH ME (Ep.2): Flight Club


***********************


EDDIE - THE IN-DEMAND PERCUSSIONIST PLAYS WITH SGGL & PAT MCGEE BAND -

This July & later in August, our own Eddie Hartness jumps in with some longtime EFO friends - first SGGL, then Pat McGee Band
07/14/2022
SGGL
Frying Pan Park
Herndon VA
https://www.fairfaxcounty.gov/parks/performances/hunter-mill/speidel-goodrich-goggin-lille/071422
07/23/2022
Pat McGee
Annapolis MD
https://www.ramsheadonstage.com/events/detail/430488
07/24/2022
Pat McGee
Washington DC
https://pennsocialdc.com/shows/
08/17/2022
SGGL
Burke Lake Park
Burke VA
https://www.fairfaxcounty.gov/parks/performances/speidel/081722
***********************


MICHAEL CLEM's JULY - UPDATED CLEMTUBE CHANNEL

EFO's Michael Clem has recently dressed up his YouTube channel, calling it ClemTube. He's been loading up homemade music videos and performances from his Monday Night residency gig in Charlottesville VA - lots of unrecorded/unreleased stuff, and other miscellaneous videos, including a bad impersonation of Fonzi.
Check it out & please SUBSCRIBE (it's free!)
https://www.youtube.com/channel/UC7fEM6JvhFrsN6zQ5FjVvug

-----------------
Having written a bunch of tunes over the pandemic slowdown, EFO's Michael Clem has teamed up with friend/producer Rusty Speidel to record five of them for the new EP Rivannarama, released January 12 last year.

ORDER A LIMITED EDITION HARD COPY ON CD (U.S. Only)
Send $10 via
Venmo – @Michael-Clem-4
or PayPal – jfishmusic@hotmail.com
please include your mailing address in the message
OR
ORDER A DIGITAL DOWNLOAD
http://michaelclem.bandcamp.com

---------------------
CLEM'S July
Fr/8 solo @ Patch Brewing Co. Gordonsville VA 6-9pm
Sa/9 duo with Matty Metcalfe @ Private House Concert, Charlottesville VA 7pm
Su/10 solo @ Montifalco Vineyard, Advance Mills VA, 12:30-3:30pm
Th/14 Susie & The Pistols @ Stinson Vineyards, Crozet VA 6-9pm
Fr/15 Gooey Gumdrops @ Glass House Winery, Free Union VA 6-9pm
Sa/16 solo @ Private House Concert, Springfield VA 7pm
Fr/22 solo @ Private House Concert, St. Leesburg VA 7pm
Every Monday Night - Host to Cville Songwriter Nite, The Local, Cville VA 9-11pm

Now available for House Concerts
(Calendar has been filled up with trips all over, from Michigan to Florida)
https://michaelclem.com/house-concerts/
The house shows have been a blast - see the reviews here
https://michaelclem.com/house-concert-reviews/
For all things MC visit http://michaelclem.com
MC's Facebook page https://www.facebook.com/michaelclemmusic
& MC's YouTube (ClemTube) channel https://www.youtube.com/channel/UC7fEM6JvhFrsN6zQ5FjVvug



***********************



NORTH PACIFIC RAIN ON YOUTUBE


Wrote a song about it. On 16 August 1977, Elvis did, in fact, die. It's the opening track of our 1993 album, Actually Not - "North Pacific Rain" which opens with that Elvis line. Our apologies to the Edheads who have let us know the live stream platforms truncate the mp3 version of NPR. While we attempt to get that problem corrected, here's a YouTube link of "North Pacific Rain (The Summer Elvis Died)" in all its uninterrupted glory. Thanks to the great Billy Wolf for his production, and Rest In Peace, Mr. Mike Auldridge - your dobro work is heaven on earth.
https://www.youtube.com/watch?v=axLHVF6uEZM


**************************


EDDIE FROM OHIO'S 1992 LIVE! AT THE BIRCHMERE CASSETTE RE-RELEASED!

Our first recording was a cassette - looong out of print, but it's NOW AVAILABLE FOR DIGITAL DOWNLOAD!

On April 14, 1992, EFO took part in the WAMA Crosstown Jam. Our multi-act showcase was at The Birchmere in Arlandria VA (its legendary 2nd location directly on Mt Vernon Ave, blocks from the current locale). The wonderful house sound engineer, Billy Wolf, honored our request to make a board tape of our set. We couldn't believe the results of his beautiful mix, and decided to make a cassette for sale at our shows - a tape we referred to as "The 6 Pack". We moved a whole bunch of units at 5 bucks each, and it marked the beginning of growing our audience around our original music, and not just our covers. It also marked the beginning of an incredible relationship with Billy, who essentially took us under his wing, mentored us, and worked with us in earnest in the studio (producing 8 albums!) as well as other live projects. BOOya, Billy!

This recording has been out of circulation for some time, but a recent discovery of a fairly clean copy inspired us to make it available again. Hear us in all our infant glory (two acoustic guitars & hand percussion -- as well as Robbie on some killer guirro on track 5).

Go back in time to the days of Robbie's fanny pack, Mike's mullet, Eddie's dashiki, & Julie's midi dress w/combat boots. No pictures, just audio. You'll simply have to "imagine us" while you listen.
https://www.amazon.com/Live-at-Birchmere-Eddie-Ohio/dp/B077XJQ3MR/ref=sr_1_8?dchild=1&keywords=eddie+from+ohio&qid=1599075912&sr=8-8




EDDIE FROM OHIO WOLF TRAP VIDEO

In case you missed it, our friends at Wolf Trap released a live performance of your folk foursome for their "Park Pop-Ups" series. The video is still up for your viewing pleasure:
https://www.wolftrap.org/calendar/performance/sessions/eddiefromohio.aspx#datetime=08012020T160000




EFO 3 SONG SET CAPTURED ON VIDEO IN NYC
While we were at the ever-hospitable City Winery in New York City, we partook in one of their fine offerings: an intimate live video, professionally shot and edited called "Cellar Sessions, One on One".
See the results for yourself on our video page
https://eddiefromohio.com/video





EFO MUSIC ON THE INTERNET

All of EFO's music is available for digital download at https://www.amazon.com/s?k=eddie+from+ohio&ref=nb_sb_noss_1

Hard copies (what are left) are now only available at our live performances, but all digital downloads are available at iTunes, Amazon, and others.





EFO SHIRTS ARE BACK!!

All you Edheads who've been waiting to replace your EFO swag - well, now's your chance. Check out https://www.redbubble.com/shop/?query=eddie%20from%20ohio&ref=search_box Red Bubble's EFO Site. Our good friend and master artist Oslo, has put up some past logos, and now you can design your own shirts, hoodies,even a cell phone case! Pick your color, pick your style, pick your logo - it's so easy and PayPal-friendly. See more from Oslo, at his website, http://oslographics.com






EFO SHOWS OF YORE UPLOADED FOR YOUR LISTENING PLEASURE
Many shows have been uploaded to http://archive.org/details/EddieFromOhio.
Performances from all over the country at all different stages in our quarter century career.




OTHER NEWS

LIKE US ON FACEBOOK - Lots of news gets posted there, too.
Click https://www.facebook.com/eddiefromohio





THANKS FOR ALL THE LOVE THE PAST 31 YEARS!
juliemikeeddie&robbie
email us at eddiefromohio@gmail.com