EDDIE FROM OHIO'S JANUARY 2009 EMAILER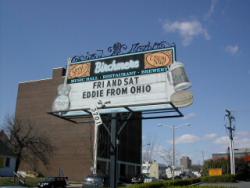 : THE BIRCHMERE JANUARY 16, 17 & 18, 2009, ALEXANDRIA VA :
It's pretty much become an annual tradition: a three-night run at the Birch to
kick off the New Year (right before Inauguration Week, and Monday is Martin Luther King Day). This year we're pleased to have
Jake Armerding
join us on stage all three nights. Many of you remember him from his stellar performance with us at Wolf Trap this past August. He will also be opening Friday & Saturday's shows - a great solo act. Opening Sunday night will be the fabulous
Red Molly
, a female trio from the Northeast who came together at the Falcon Ridge Folk Festival from late night jam sessions. They've also contributed to Robbie's new solo CD. We're also pleased to announce that, like last year, we will be recording our set each night and selling CDs at show's end. These CDs will only be available on those nights. Another tradition is that these shows tend to sell out in advance, so don't delay being part of our great hometown rite of passage.
For more info click
here
.
: ROBBIE NEW CD & TOUR DATES :
Last month, Robbie released his fine new 13-song CD
Strange & Lovely World
at a sellout Jammin Java show in Vienna, VA. In upcoming weeks, he'll be touring to support the new disc. Check out the dates below.
For more info, go to Robbie's new website.
RobbieSchaefer.com
January 3, 3PM Kids Show
Gravity Lounge
Charlottesville, VA
January 3, 7:30PM
Gravity Lounge
Charlottesville, VA
co-bill with Ellis Paul
GravityLounge.com
January 26-February 23
Songwriting Class:
Robbie is teaching a songwriting class
as part of the new "Inside the Arts"
Creative Courses for Adults at Wolf Trap
beginning January 26, 2009.
Registration open now- Go to Wolf Trap's
website
January 30
House Concert
Avon Lake, OH
January 31, 2PM Kids Show
Brighton Center for the Performing Arts
Brighton, MI
more dates at his
website
Have a Fine '09!
juliemikeeddie&robbie
Folk-Rockin' Your World Since 1991