EDDIE FROM OHIO MAY 2020 EMAILER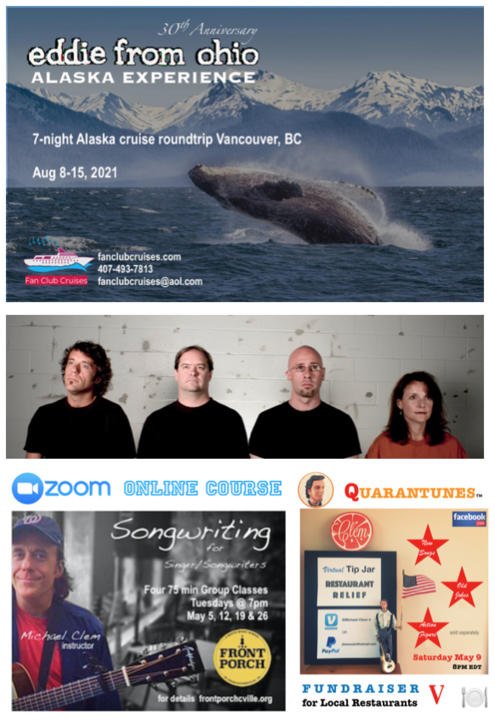 Greetings Edheads Everywhere

We hope everyone is safe and healthy during these challenging times. There is not a tremendous amount of new information to share from the EFO front. Until we hear otherwise, all shows/engagements we have from late August onward are still on schedule.... and yes, in 2021, we still plan to turn 30-years-old, and will celebrate not only with a big Birchmere weekend, but by August 2021, we will have our 7th Edhead Cruise: 30th Anniv Edition to Alaska. All other Eddie from Ohio shows are listed in the right hand column.
For all Cruise information, visit here
https://fanclubcruises.com/event/eddie-from-ohio-alaska-experience%20


REST IN PEACE, GENE SHAY. On April 17, the folk music world lost an icon - Philadelphia legend, Gene Shay. Not only a staple on folk radio, Gene also founded the Philadelphia Folk Festival, one of the oldest in the country. Gene was an early supporter of ours when we struggled to make a name for ourselves outside of our hometown market. The Gene Shay Bump carried a lot of weight, and in his funny shameless way he would say when introducing us on stage, "Yeah, I discovered these guys." Thanks for discovering us, Gene, and also for helping countless others to be heard and seen on the Gene Scene. You left this world in a better way than how you found (discovered) it. Gene died at age 85 from coronavirus.





EFO'S MICHAEL CLEM HAS TWO THINGS TO PLUG FOR THE MONTH OF MAY

SONGWRITING CLASS ONLINE
ASPIRING SINGER/SONGWRITERS EVERYWHERE:
EFO'S Michael Clem has been teaching a group class on the Art of Songwriting at Charlottesville VA's The Front Porch this past year.
Since this upcoming class in May will be on ZOOM, you don't have to be in the Charlottesville area to take it. They will be 4 live ZOOM classes every Tuesday eve of May, starting at 7pm EDT.
There are a few spaces left for this online course.
Visit here for more information.
For the fifth time since the quarantine lockdown (coupled with many show cancellations), Clem will be hosting a Facebook Live performance from his home on Saturday, May 9 at 8pm. It'll just be Clem solo this time, and he hopes to perform a number of songs he wrote over the month of April. All monies raised will go toward relief for Charlotteville Restaurants.
Visit here for more information.
https://michaelclem.com/event/michael-clem-online-quarantunes-v-for-restaurant-relief/
Clem's website -
https://michaelclem.com





EFO SHOWS FOR YOUR LISTENING PLEASURE DURING QUARANTINE

Many shows have been uploaded to http://archive.org/details/EddieFromOhio.
Performances from all over the country at all different stages in our quarter century career.

Also, here's a three song video captured in recent years at NYC's City Winery
http://eddiefromohio.com/video
OTHER NEWS

TWITTER- Follow us @virginiasoul
LIKE & FOLLOW US ON FACEBOOK
Click https://www.facebook.com/eddiefromohio

Be Safe, Wash Your Hands, Don't Touch Your Face (or anyone else's)
juliemikeeddie&robbie
email us at eddiefromohio@gmail.com