testing background colors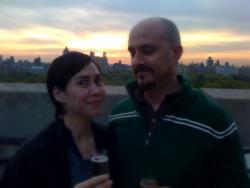 Black Tea
The water for black teas should be added at the boiling point (100 C or 212 F). Many of the active substances in black tea don't develop at temperatures lower than 90 C. For some more delicate teas lower temperatures are recommended. The temperature will have as large an effect on the final flavour as the type of tea used. The most common fault when making black tea is to use water at too low a temperature. Since boiling point drops with increasing altitude, this makes it difficult to brew black tea properly in mountainous areas. It is also recommended that the teapot be warmed before preparing tea, easily done by adding a small amount of boiling water to the pot, swirling briefly, before discarding. Black teas are usually brewed for about 4 minutes and should not be allowed to steep for less than 30 seconds or more than about five minutes (a process known as brewing or [dialectally] mashing in the UK, specifically in Yorkshire.). Longer steeping times make the tea bitter (at this point it is referred to as being stewed in the UK). When the tea has brewed long enough to suit the tastes of the drinker, it should be strained while serving.
Oolong tea (or Wulong)
Oolong teas should be brewed around 90 C to 100 C (194 F to 212 F), and again the brewing vessel should be warmed before pouring in the water. Yixing purple clay teapots are the traditional brewing vessel for oolong tea. For best results use spring water, as the minerals in spring water tend to bring out more flavour in the tea. High quality oolong can be brewed multiple times from the same leaves, and unlike green tea it improves with reuse. It is common to brew the same leaves three to five times, the third steeping usually being the best.
Premium or delicate tea
Some teas, especially green teas and delicate Oolong or Darjeeling teas, are steeped for shorter periods, sometimes less than 30 seconds. Using a tea strainer separates the leaves from the water at the end of the brewing time if a tea bag is not being used. Elevation and time of harvest offer varying taste profiles, proper storage and water quality also plays a large impact on taste.
Pu-erh tea (or Pu'er)
Pu-erh teas require boiling water for infusion. Some prefer to quickly rinse pu-erh for several seconds with boiling water to remove tea dust which accumulates from the aging process. Infuse pu-erh at the boiling point (100 C or 212 F), and allow to steep for 30 seconds or up to five minutes.