EDDIE FROM OHIO AUGUST 2020 EMAILER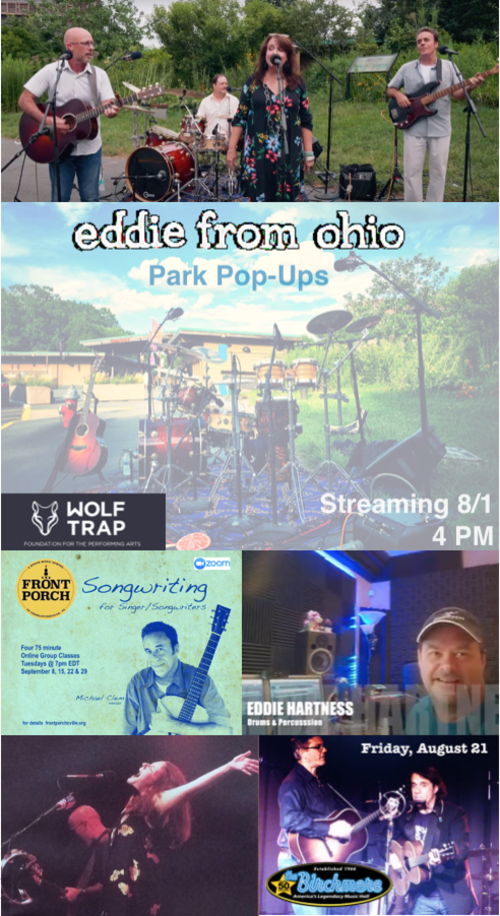 Happy DogDays of Summer, Edheads
First the really good news, in a matter of minutes, a streaming performance of your fearless foursome, EFO, will appear online. The good folks at
Wolf Trap
recruited us to take part in their "Park Pop-Ups" music series. Last week, we performed a mini-set on the grounds of the Filene Center before their video cameras. It will begin streaming on their website today, August 1 at 4pm EDT. Just visit here
https://www.wolftrap.org/calendar/performance/sessions/eddiefromohio.aspx#datetime=08012020T160000
It may come as no surprise that due to Covid, most of our dates have been struck from our 2020 calendar. The good news is that many of these dates have been rescheduled for the exact same time next year in 2021- shows like
late August's Arrowbrook Centre Park
in Herndon VA... the other dates are our
December weekend at The Tin Pan
in Richmond VA. The news on the the September and October shows in the Midwest and Northeast is slowly rolling in, and you can see the individual dates on the right hand column of this emailer. We will continue to update our website as soon as we have the information.
Currently, we're in a wait-and-see for all the other shows on the calendar.
The August 2021 Cruise is still ON. Please read the details below.
THE 7TH EDHEAD CRUISE TO ALASKA, AUGUST 2021 & OTHER EFO SHOWS
Until we hear otherwise, all shows/engagements in 2021 are still on schedule. In 2021, we still plan to turn 30-years-old, and will celebrate not only with a big Birchmere weekend, but by August 2021, we will have our 7th Edhead Cruise: 30th Anniv Edition to Alaska. All other Eddie from Ohio shows are listed in the right hand column.
For all Cruise information, visit here
https://fanclubcruises.com/event/eddie-from-ohio-alaska-experience%20
EDDIE & MIKE TO APPEAR IN PAT MCGEE ROCKFOLKUMENTARY AUG 7 & 8
Back in 1995, EFO's
Eddie Hartness
&
Michael Clem
had the pleasure of playing on good friend
Pat McGee
's debut album,
From The Wood
. Pat is presenting a documentary about the making of this fine project on August 7th & 8th. Eddie & Mike both offer their testimonials and memories of the sessions.
Friday, August 7th, 8:00 PM (eastern)
https://tinyurl.com/PMFTWONE
Saturday, August 8th, 8:00 PM (eastern)
https://tinyurl.com/PMFTWPARTTWO




EFO'S MICHAEL CLEM & SGGL's RUSTY SPEIDEL AT THE BIRCHMERE FRI AUG 21

In an attempt to have some kind of operation during these challenging times, the legendary Birchmere in Alexandria VA, has reached out to Speidel & Clem, as both their main acts (SGGL & eddie from ohio) are mainstays of the venue , to try some smaller, more intimate shows. They are limiting the seating & spacing and sanitizing the seats. All staff will be wearing masks. Come on out and make a night of it during the dog days of Summer. Visit http://birchmere.com

OTHER CLEM AUGUST SHOWS
Sa/8 playing guitar with Callie Garrett & Gary Green, Septenary Winery, Greenwood VA 1-4pm
https://michaelclem.com/event/playing-guitar-with-calie-garrett-gary-green-septenary-winery/
Th/20 duo w/Rusty Speidel, Bizou/The Lot, Charlottesville VA 6-9pm
https://michaelclem.com/event/michael-clem-rusty-speidel-bizou-the-lot-2/
Fr/21 duo with Rusty Speidel, THE BIRCHMERE, Alexandria VA 7:30pm
https://michaelclem.com/event/michael-clem-rusty-speidel-the-birchmere/
Sa/22 private house concert, Charlottesville VA time TBA
https://michaelclem.com/event/michael-clem-solo-private-house-concert-charlottesville-va/
Su/23 solo, Well Hung Vineyard, Gordonsville VA, 1-4pm
https://michaelclem.com/event/michael-clem-solo-well-hung-vineyard-3/

Clem's website - https://michaelclem.com





EFO's MICHAEL CLEM TEACHING ONLINE SONGWRITING CLASS IN SEPTEMBER

For the seventh time, for the month of September, EFO's Michael Clem will teach a Songwriting Class through Charlottesville's Front Porch, and will do so online. You can take the course from ANYwhere. Space is limited - please sign up soon.
More info - https://the-front-porch.teachable.com/p/songwriting-for-singer-songwriters1





EFO SHOWS FOR YOUR LISTENING PLEASURE

Many shows have been uploaded to http://archive.org/details/EddieFromOhio.
Performances from all over the country at all different stages in our quarter century career.

Also, here's a three song video captured in recent years at NYC's City Winery
http://eddiefromohio.com/video
OTHER NEWS

TWITTER- Follow us @virginiasoul
LIKE & FOLLOW US ON FACEBOOK
Click https://www.facebook.com/eddiefromohio

Be Safe & Be Kind
juliemikeeddie&robbie
email us at eddiefromohio@gmail.com