EDDIE FROM OHIO SEPTEMBER 2020 EMAILER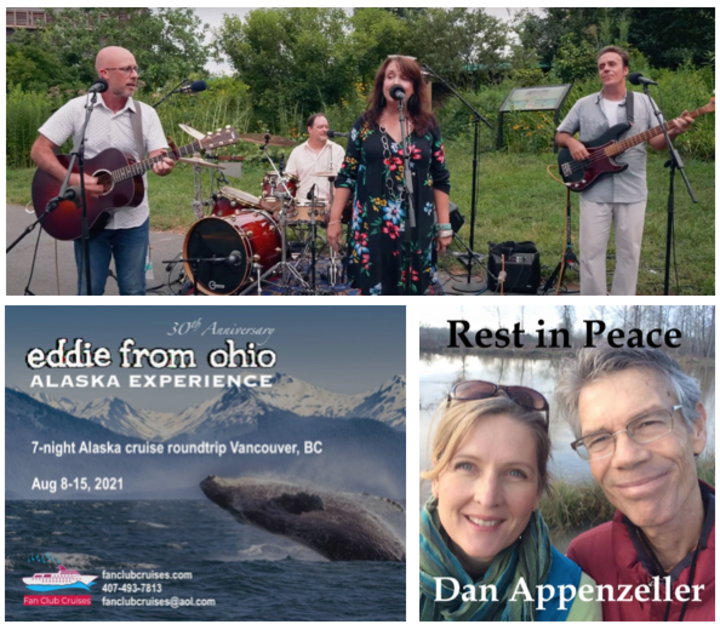 Happy September, Edheads
Did we even have a Summer? We certainly had the heat. The not-so-surprising news from the EFO front is that all of our bookings for the month of September in the Midwest, while not cancelled, have been moved to the same weekend in 2021 - just like our Tin Pan show December weekend. Please mark your calendars accordingly.

However, we're still a GO (until we hear otherwise) for our cruise next August, celebrating our 30th Anniversary!
For all Cruise information, visit here
https://fanclubcruises.com/event/eddie-from-ohio-alaska-experience%20
Here's some other EFO related news...





EDDIE FROM OHIO WOLF TRAP VIDEO

Our August got off to a great start, as our friends at Wolf Trap released a live performance of your folk foursome for their "Park Pop-Ups" series. The video is still up for your viewing pleasure:
https://www.wolftrap.org/calendar/performance/sessions/eddiefromohio.aspx#datetime=08012020T160000





REST IN PEACE, DAN APPENZELLER

EFO had no greater friends of our music in the Mountain State of Colorado than Dan Appenzeller and his lovely wife, Crista Munro. Together, they brought the Four Corners Folk Festival to Pagosa Springs CO in 1996. By their third fest in '99, they graciously brought us into their Labor Day Weekend event, and the LoveFest was immediate. We not only bonded with the festivarians but with the great citizenry of Pagosa.... these people were exceptional (too many great stories to recount). From that year on, they had us back 10 times, and the joy never ceased. Dan & Crista & all their friends were family to us - at least we felt adopted. For most of that time though, Dan had been in the throes of a fierce battle with cancer - he a was even in remission for 15 years. Sadly, the lengthy fight came to an end on August 21, when Dan passed away at his home in Sisters OR. He was 64.

How fitting as we embrace for yet another Labor Day weekend, which for Eddie from Ohio, always belongs to a beautiful tented hilltop in southern Colorado. We love you, Dan (& Crista)!

To read more about Dan's remarkable life and incredible festival story, please read this wonderful appreciation piece in The Durango Telegraph, aptly celebrating the "father of folk"
https://www.durangotelegraph.com/second-section/top-shelf/the-father-of-folk/?fbclid=IwAR2S1hqQoe7VVruY24WWRXCfRB7x5qChzS3EfY3qfCHcwwKy6mUUshGPNiU




EFO'S EDDIE HARTNESS TEAMS UP WITH SAM POINTER

Our band's namesake Eddie has offered some percussion to old friend & roommate Sam Pointer, for his first solo record. New Potato Caboose alum, Sam is looking to put out his quarantine project with some Kickstarter help. Check out the website and see what he's up to, and try to help out if you can
https://www.kickstarter.com/projects/sampointer/sam-pointer-debut-album?fbclid=IwAR1QmA44XCrMfaOlwOKsJl8iBYnUjFxJUhS0L2SiHrCENC53YitjMwaeaAM





EFO'S MICHAEL CLEM's SEPTEMBER

With a full wardrobe of rockin' back2school fashions, EFO's Michael Clem is ready to take campus by storm!
Here's some of his Central VA shows

Fr/4 playing bass w/ Rusty Speidel & Paul Rosner, 12 Ridges Vineyard, Vesuvius VA 4-7pm
Su/6 duo w/ Rusty Speidel, Pro+Re+Nata, Crozet VA 2-5pm
Th/10 solo @ Greencroft Club, Charlottesville VA 6-8pm
Sa/12 duo w/ Rusty Speidel, Cunningham Creek Winery, Palmyra 4:30-7:45pm
Su/13 solo @ Well Hung Vineyard, Gordonsville VA 1-4pm
Fr/18 duo w/ Rusty Speidel, Bizou/The Lot, Charlottesville VA 6-9pm
Fr/25 Girl Group Tribute, Glass House, Free Union VA 6-9pm
The Tuesday Zoom Songwriting course at The Front Porch has filled up-
Stay tuned for the next class (possibly November)
For all things MC visit http://michaelclem.com
Still available for safe-distance outdoor house concerts while the weather is nice
Interested? visit https://michaelclem.com/house-concerts/




EDDIE FROM OHIO'S 1992 LIVE! AT THE BIRCHMERE CASSETTE RE-RELEASED!

Our first recording was a cassette - looong out of print, but it's NOW AVAILABLE FOR DIGITAL DOWNLOAD!

On April 14, 1992, EFO took part in the WAMA Crosstown Jam. Our multi-act showcase was at The Birchmere in Arlandria VA (its legendary 2nd location directly on Mt Vernon Ave, blocks from the current locale). The wonderful house sound engineer, Billy Wolf, honored our request to make a board tape of our set. We couldn't believe the results of his beautiful mix, and decided to make a cassette for sale at our shows - a tape we referred to as "The 6 Pack". We moved a whole bunch of units at 5 bucks each, and it marked the beginning of growing our audience around our original music, and not just our covers. It also marked the beginning of an incredible relationship with Billy, who essentially took us under his wing, mentored us, and worked with us in earnest in the studio (producing 8 albums!) as well as other live projects. BOOya, Billy!

This recording has been out of circulation for some time, but a recent discovery of a fairly clean copy inspired us to make it available again. Hear us in all our infant glory (two acoustic guitars & hand percussion -- as well as Robbie on some killer guirro on track 5).

Go back in time to the days of Robbie's fanny pack, Mike's mullet, Eddie's dashiki, & Julie's midi dress w/combat boots. No pictures, just audio. You'll simply have to "imagine us" while you listen.
https://www.amazon.com/Live-at-Birchmere-Eddie-Ohio/dp/B077XJQ3MR/ref=sr_1_8?dchild=1&keywords=eddie+from+ohio&qid=1599075912&sr=8-8






EFO 3 SONG SET CAPTURED ON VIDEO IN NYC
While we were at the ever-hospitable City Winery in New York City, we partook in one of their fine offerings: an intimate live video, professionally shot and edited called "Cellar Sessions, One on One".
See the results for yourself on our video page
http://eddiefromohio.com/video






EFO MUSIC ON THE INTERNET

All of EFO's music is available for digital download at https://www.amazon.com/s?k=eddie+from+ohio&ref=nb_sb_noss_1

Hard copies (what are left) are now only available at our live performances, but all digital downloads are available at iTunes, Amazon, and others.






EFO SHIRTS ARE BACK!!

All you Edheads who've been waiting to replace your EFO swag - well, now's your chance. Check out http://www.redbubble.com/people/eddiefromohio Red Bubble's EFO Site. Our good friend and master artist Oslo, has put up some past logos, and now you can design your own shirts, hoodies,even a cell phone case! Pick your color, pick your style, pick your logo - it's so easy and PayPal-friendly. See more from Oslo, at his website, http://oslographics.com




EFO SHOWS OF YORE UPLOADED FOR YOUR LISTENING PLEASURE
Many shows have been uploaded to http://archive.org/details/EddieFromOhio.
Performances from all over the country at all different stages in our quarter century career.




OTHER NEWS

TWITTER- Follow us @virginiasoul
LIKE US ON FACEBOOK - Lots of news gets posted there, too.
Click https://www.facebook.com/eddiefromohio


SIGN UP FOR THE CRUISE !
juliemikeeddie&robbie
email us at eddiefromohio@gmail.com